Started off slow but out "Foxed" Leicester.
This game showed a similar pattern to that of the Watford, Everton, and West Ham games.
Leicester clearly had a game plan, which was to press us high up the pitch, and it worked to a good degree.
Again, we started slow, and then grew into and dominated the game.
Claude Puel should be commended for at least looking to get in our faces – and he could have succeeded.
As for us, it shows our weaknesses and strengths. We can attack with the best of them and still are defensively weak somewhat.
Leicester's pressing and attacks came largely from Maddison, Chilwell, and Ndidi, and they had some chances via Maguire's header, and a curling shot from Ndidi.
They took the lead via Chilwell, who sped past Bellerin, but caught him to wrongfoot Leno and take the lead.
Both Iwobi and Ozil had some tricks in the first half, and the former managed to equalise with some good work down the right from Bellerin, and Ozil shooting home from off the post.
The second half was dominated by us, and we took the lead just after Aubameyang came on as a substitute, via a tap-in from good work by Bellerin again.
Auba got the third, with some wondrous interplay between Iwobi, Ozil, and Lacazette, and he tapped in the third to get a brace and continue his push for the Golden Boot.
Ndidi had a header crash against the bar, but overall Leicester's strong play in the first period was extinguished by us.
Akin to the Watford, West Ham, and Everton games, we weathered some early pressure via our superior attacking prowess and talent.
Impressions/player ratings
.There must be a reason why we play this 45-minute football. Is it fitness-related? Or deliberate? Does Emery still recognise that we need to work defensively and that we have the attacking talent to kill teams off?
Or is that Emery knows what game plan teams will have against us, and in a way is testing the opposition and our players? Is this like dropping the defence in the deep-end, and thus far we're treading water?
Who knows? It's evident that in various games, we've managed to outplay and dominate teams in the latter stages, and in fairness to Everton, West Ham, and Watford (and now Leicester) they have few players on our technical level.
This 45-minute football could cost us, especially against Liverpool and the likes of Firmino, Salah, and Mane very soon. That said, despite evident concerns, it's gratifying to see us destroy teams towards the end, and if we get the defensive balance correct, we could be on to something and soon.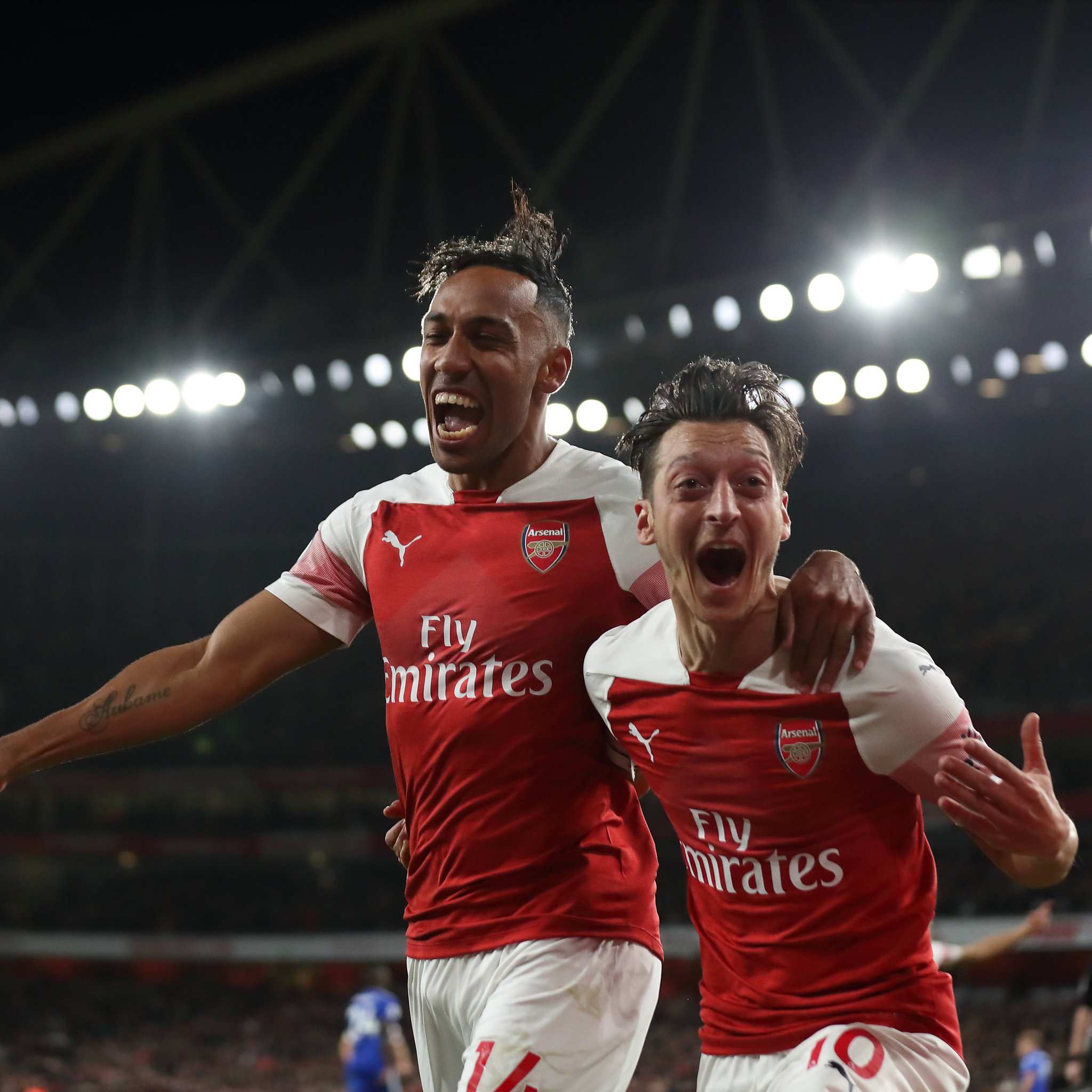 Leicester had a predictable game plan, as they pressed us up high, looked to unleash Vardy, and get their wingers and full-backs to push forward. They also pressed us in the midfield and tried to get in our faces. They were worthy of the lead, in fairness.
However, I suspect it's a mix of deliberate game management and a need to improve the defence. Emery is making the changes at half-time and/or second half, which have won us various games, and this is what we've been crying out for in years. Despite also having a penalty claim against Holding, Leicester was certainly "outfoxed" in the second period.
Ozil stood out for me in the game, as he showed the technical skill that makes him world class. He's not at all consistent, but on a raw technical level, there are very few players on Earth superior to Ozil. Only Messi and Ronaldo, and possibly Modric, can surpass him in this detail. If he can be consistent, then he could be a Balon d'Or contender.
Iwobi also shone, as he showed similar technical prowess to Ozil. He definitely has enhanced this season and is relishing this new environment.
https://twitter.com/i/status/1054494475802816518
The defence individually was OK, and the goal wasn't Bellerin or the other defenders' fault. Leno was very capable and made some decent saves when required.
Xhaka's forward play was very good, and the presence of Torreira permits him to play his natural game – to look up and see who is available in an attacking sense. Torreira himself linked up well, and whilst overawed by the early Leicester press, reversed this effect in the second half.
Lacazette held the ball up well but missed some relatively easy chances in the later periods. Mkhi was active but lacked end product.
Overall, this was more of the same. Initially weak, but sealed by a superb display of sexy football. It was Mr. Wenger's birthday today, and if he saw this on TV wherever he is in the world now, he would have recognised the sexiness on show. It's stuff that he himself bestowed onto the club, and something we're eager and keen to continue.
Next up is Crystal Palace and whilst we won there last season, they won't lie down as they need the points. Let's hope it's another win, and thus NINE on the bounce (in the league at least).
Leno – 8
Lichtsteiner – 6
Mustafi – 7
Holding – 6
Bellerin – 7
Torreira – 6
Xhaka – 7
Mkhitaryan – 6
Iwobi – 8
Ozil – 9
Lacazette – 6
Aubameyang – 8
Guendouzi – 7
Ramsey – 5
Emery – 7 – Made the requisite tactical and personnel changes to get us to win the game. 
Man of the match
"I just don't think you understand!!"
"He's Unai Emery's man, he's better than Zidane! We've got Mesut Ozil!!"
If only we could have performances of this type on a regular basis. Comparisons to Bergkamp are a stretch, but IF he could be consistent, he'd go some way to matching the Dutch master.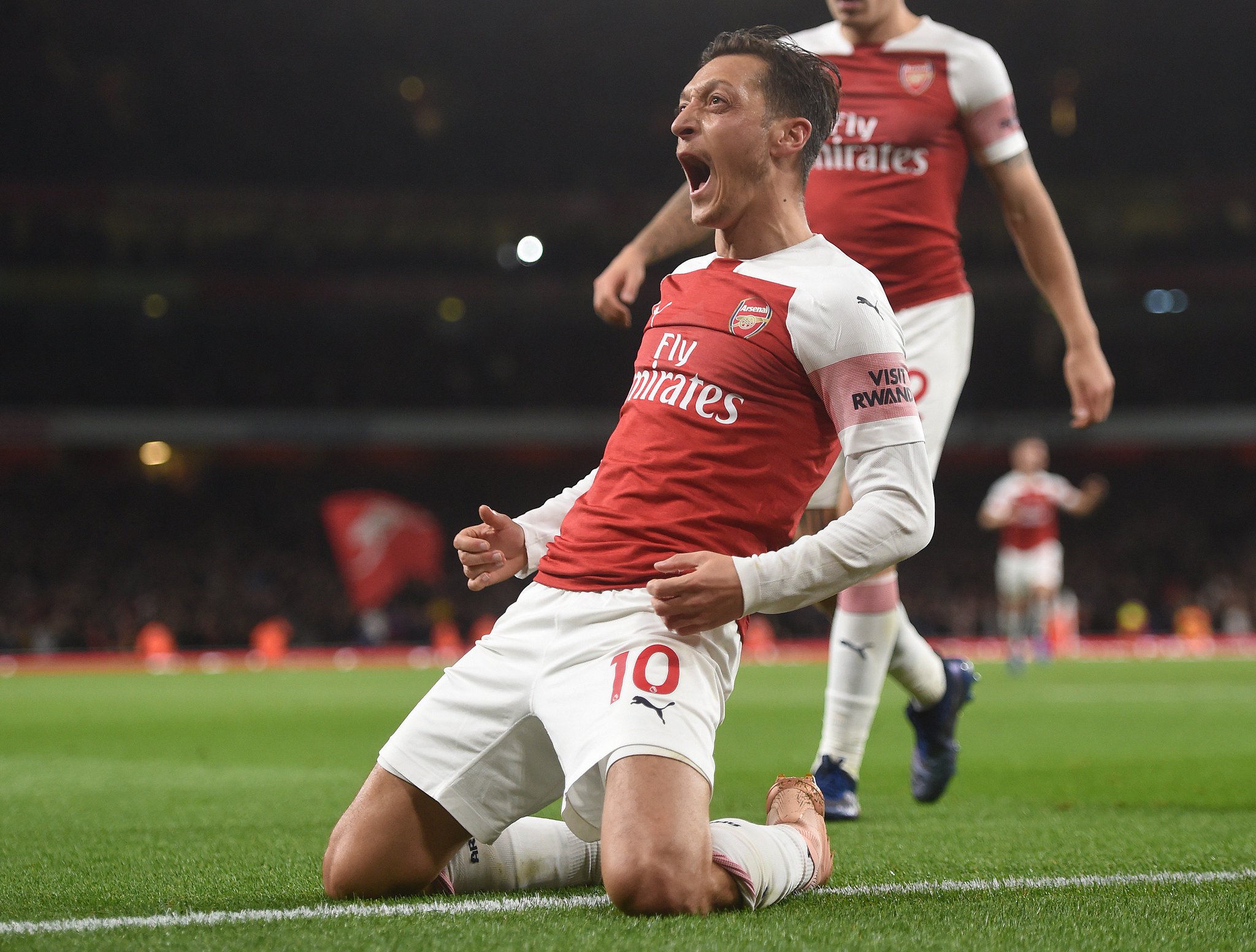 MarbleHallsTV is an Arsenal social media account on Twitter, Facebook and Youtube. Been a Gooner since the 90s, inspired by Ian Wright, then Bergkamp, Vieira, Henry, Pires, Campbell, Rosicky, Koscielny, Ozil and Sanchez. A digital marketer/entrpreneur by profession, born in UK living in the Americas now.