Arsenal points of interest – 27th Nov. 2018
Should the club sell Mkhitaryan?
Whilst many of us are naturally content with the 2-1 win vs. Bournemouth, Mkhitaryan's performance brought much thinking and musing amongst fans.
I'm a fan of the podcast by Gooner Eagle Eye on Youtube and Twitter, in which he features Lee Gunner (of AFTV fame) and some of his friends from other clubs, including Robby Richmond (Liverpool fan) and Stel (Man United).
Stel made an interesting point on Mkhitaryan, essentially what many Gooners are perceiving him as now. Just nice tricks and flicks but little end product.
Mkhi did get a very welcome equaliser vs. Wolves. But in most games he's featured in since he joined, he's not done that well. The United game away in 17/18, the Everton home game in the same season, and possibly Chelsea away this season, were plusses. Other than that, there are few other plus points. In terms of the other attackers, his contribution has been very sporadic.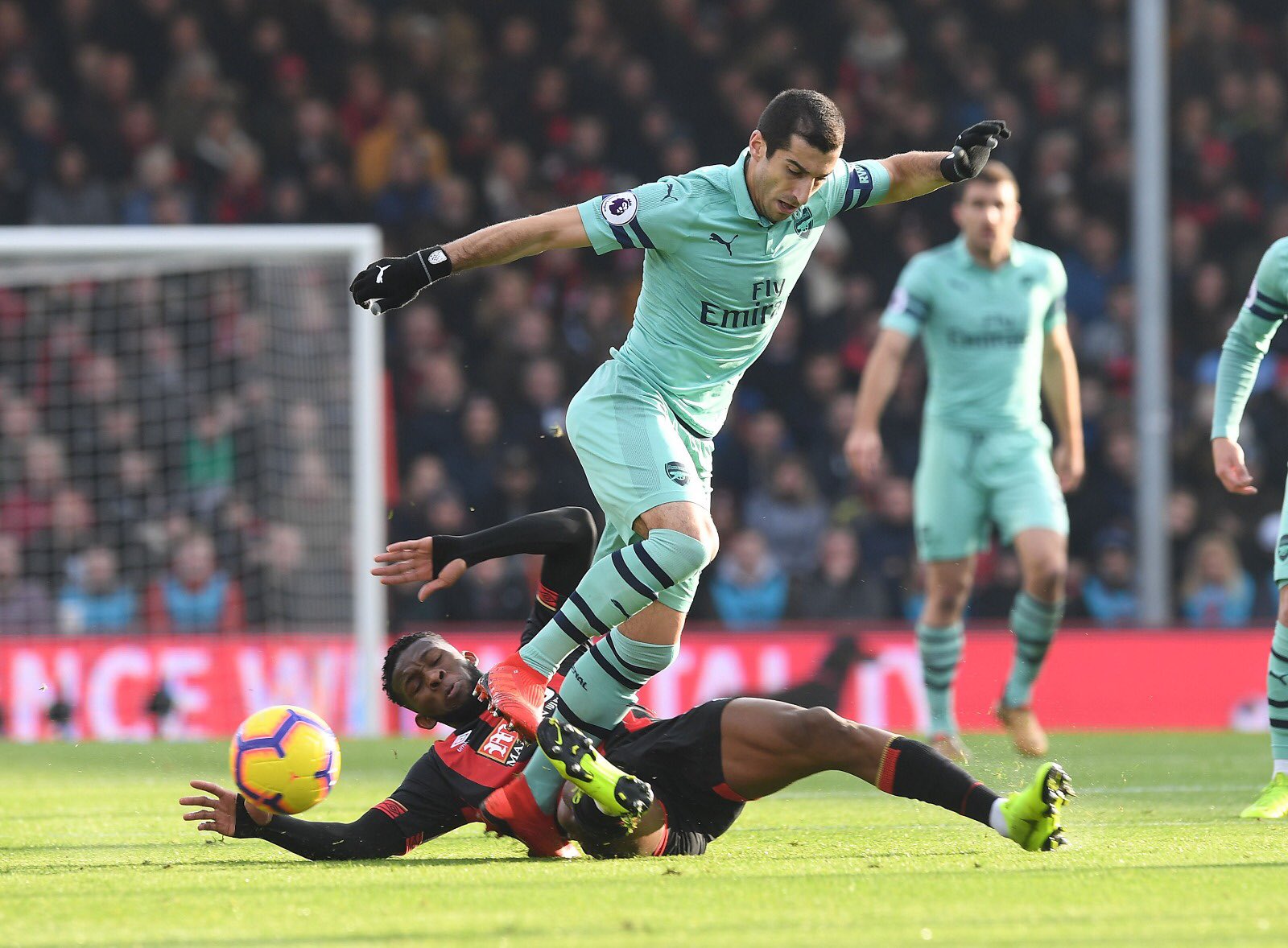 Iwobi has stepped up a lot and got a "pre-assist" for Auba's goal at Bournemouth. Welbeck, pre-injury of course, had been scoring and demonstrating his usual work-rate. Ozil had been scoring and assisting, whilst both Laca and Auba have been scoring goals. Even Smith-Rowe has looked good in the Europa League games he's featured in. Mkhi, for me at the least, is the odd one out here.
It's not to hate on him or knock him. But then it seems he really needs to step up his game, to ensure he can provide full value in our side. If not, then maybe he would need to be sold.
Our next two games, especially the NLD, can be redemption for him. It's primed for him to redeem himself, and if he can, it would be a base to rehabilitate himself on.
Ozil Bournemouth 
Emery made some interesting comments vis a vis Ozil lately. He said that the Bournemouth game was too physical for him, and that's why he dropped him.
Now, I'm in two minds here.
He may have been right to do so – if he felt he was not apt for this game. Emery's English, whilst improving and not as bad as made out, is not as good as Wenger's, or even our non-British players. So it could be how he expresses himself in a foreign tongue, which he wouldn't if he were speaking in his native Spanish. Something here, quite literally, could have been lost in translation.
But then if the real reason is physicality, this potentially could embarrass Ozil. IN a recent interview on Sky Sports, he said he didn't care what others said regarding his perceived inconsistency. But then he must be aware of the criticisms at hand, and how many people share them. If he feels he's being called out, does this signify a rift? Mourinho at United is calling out his players harshly, and is this something similar here? Who knows? We as fans can only speculate. There was, however, talk of a training ground bust-up earlier this season, where Ozil was dropped due to not working hard enough.
Contrarily, it shows that Emery has no favourites, and wants all players to put in their shifts. If they don't, then they're not in line. This is what we've been calling out for in years, and have bemoaned things being too comfortable.
So really, can we complain? Aren't we getting what we've demanded?
Either way, it's an intriguing development, and we'll have to wait and see in this capacity. Let's hope Ozil shows the boss wrong, though I'm happy with Emery's progress thus far.
Rob Holding
Rob Holding had a good interview on Sky Sports lately –
However, it's shocking that as a defender himself he didn't know who Steve Bould was!
Nonetheless, to hear of his rise to Arsenal, and potential England status, was very good, and he should be the mainstay of our central defence now.
About time we got that winning feeling back, thanks to the travelling fans! 🙌 #COYG pic.twitter.com/aVUx5L1tBd

— Rob Holding (@RobHolding95) November 25, 2018
https://platform.twitter.com/widgets.js
Alex Scott
She is fast becoming a capable pundit on Sky Sports – proving that ex-Arsenal rules punditry. Is there not a network out there that doesn't have an ex-Gunner on it?
But her saying that we were outplayed by Bournemouth in the first half – well no, I don't agree. They certainly had the better of the opening 20 minutes, but from then until their equaliser I felt we grew into the game well.
Yes, a pundit must be objective and cannot give us "favours". Nobody should expect Neville to give Man U favours, or Carragher Liverpool such. But I don't think it was a fair point – Arsenal legend notwithstanding.
That completes your round up from Marble Halls TV and now for Christmas …..
MarbleHallsTV is an Arsenal social media account on Twitter, Facebook and Youtube. Been a Gooner since the 90s, inspired by Ian Wright, then Bergkamp, Vieira, Henry, Pires, Campbell, Rosicky, Koscielny, Ozil and Sanchez. A digital marketer/entrpreneur by profession, born in UK living in the Americas now.